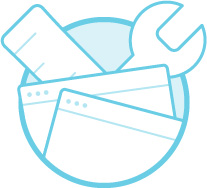 We will Be back Soon
Thank you for waiting while we switch web hosting providers.
Undergoing Maintenance
Saturated Settings hasn't gone anywhere. We're just undergoing some growing pains as we continue to strive to serve you better.
Feature Updates
Check back to this page often. It's only a matter of time until something new and exciting fills this space.
Bug Fixes
Our website is put through some of the most rigorous stress testing we can muster. Once we're sure it's safe, we'll let everyone back in.